InsureMD.com is a special service designed to meet the unique needs of Physicians and other Healthcare Professionals, and is provided by the independent brokers at ABA - American Benefit Advisors. 

We provide the technical research, professional advice and ongoing support to give Physicians great personal and employee benefits, executive perks and savings on malpractice and other insurance costs.

Because we are independent brokers, we can bring you more options and innovative solutions. 

We are committed to serving

your best interest with access

to over 200 of the nation's top

rated insurance carriers.


ABA's founder, Lamar Blount,

is co-author of the American

Medical Association's (AMA)

best selling book, Mastering

the Reimbursement Process.

Building, Protecting & Transferring Wealth

InsureMD.com provides proven, strategic solutions for Physicians seeking to build, protect & transfer maximum wealth with a minimum of taxes. 

We work with your CPA, Attorney and Financial Advisors to introduce and implement advanced techniques that are customized to meet your personal goals. 

Let us show you how to better protect your practice and your personal assets with innovative solutions, including: .

Asset & Income Stream Protection

Business Succession Planning

Key Person & Buy-Sell Plans for Life & Disability

Disability Income Plans above $20,000/month  

Fully Refundable Life & Long Term Care

Deferred Bonus Annuity Compensation Plans

Refund of Premium Term Life

Office Overhead Protection for Disability

American Benefit Advisors, Inc.

Atlanta, GA  30077-2166

Phone 770-645-5989

Email  Info@InsureMD.com

© 2003 - 2009 by Noel Services, Inc. All rights reserved.

Coverages and availability vary by state. Not all businesses and individuals qualify. This does not constitute legal, tax, or accounting advice or opinion.  Consult with an experienced and properly licensed professional regarding the specific suitability of any planning technique.

ABA, AMA, Mastering Reimbursement, physician benefits, physicians, American Benefit Advisors, benefit advisors, benefit administration, employee benefits administration, employee benefits, employee benefit plans, group insurance, life insurance, asset protection, financed premium, captive, Section 79 GEAR, guaranteed entry age, pension plans, defined contribution plans, defined benefit plans, fringe benefits, supplemental insurance, ancillary benefits, mini med, health care, health insurance, group health, medical insurance, LTC, LTD, STD, ERISA, COBRA, Cobra, cash balance, 125, flex plan, flexible spending, health, group, welfare, disability, income protection, fringe, health, dependent care, medical, dental, insurance, self-insured, VEBA, tax-qualified, IRA, rollover, SEP, SARSEP, REBA, COLI, BOLI, individual retirement, simplified employee pension, group pension, annuity, tax-sheltered annuity, tax sheltered annuity, key man, key employee, split dollar, flexible benefits, cafeteria, tax-deferred annuity, 403(b), 403(B), 403b, 403B, 457, 459, ESOP, keogh, Keogh, HR Software, Human Resource Software, HR, compliance, Cobra compliant, HIPAA compliant, insurance, retirement plan, financial plan, investment education, premium financing

Don't Stop With "Just" Estate Planning

You probably already have a professionally prepared estate plan, as well as expert advice on your personal and business taxes and finances.  However, the best estate and financial plan in the world can be rendered meaningless if you are not "asset protected." Just one large jury award for negligence can bankrupt a multi-million dollar estate.  ABA's free, confidential analysis can show you if you are really "protected" or "exposed."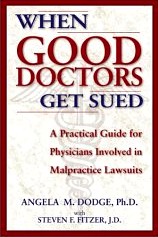 Med Mal Carriers Busted for Overstating Losses by Billions

How Medical Malpractice Insurance Companies Inflate Losses to Justify Sudden Surges in Rates and Tort Reform

Go to
http://www.consumerwatchdog.org/patients/articles/?storyId=15672
to read this revealing report by the Foundation for Taxpayer and Consumer Rights. The "incurred losses" that medical malpractice insurance companies initially reported were, on average, 46% higher than the amount the insurers actually paid out. One study author said this shows that "incurred" losses can be manipulated to support insurers' need for higher premiums when their stock and bond investments go bad.
10 Ways to Guarantee a Lawsuit

Most patients who suffer an injury because of medical negligence do not end up suing their doctors. Those who do, however, are often motivated not by the negligence itself, but by nonclinical factors like a lousy bedside manner or poor communication. These are the kinds of mistakes that are well within your power to fix.  Interviews with malpractice attorneys and risk management consultants resulted in the following things doctors do that are likely to get them sued.

1. Don't worry about keeping detailed records. The medical record is your best defense against a malpractice suit it's accurate. If it's not accurate, the plaintiff's attorney will smell blood, and use the error(s) to damage your credibility with jurors.

When recommending a certain treatment or medication, explain your reasoning to the patient, then document those reasons and the fact that you explained them. Even if your decision ultimately proves wrong, and the patient suffers an injury, those chart notes will help. In malpractice litigation, you do not have to be perfect, or even right. You just have to show that your actions were reasonable for a doctor in your specialty.

The medical record must be complete, unambiguous, and legible. If you say you told the patient to come back in three months for a follow-up visit, but did not note that instruction in the chart, the jury may not believe you ever said it. That is why defense attorneys warn their clients, "If it's not in the chart, it didn't happen."

2.  Don't take the time to document informed consent discussions. Having the patient sign a consent form is advisable, but it is not an acceptable substitute for a detailed informed consent discussion. That discussion should be recorded in the chart. If the patient does not accept your treatment preference, document that also, including the reasons why you disagree with his choice.

The standard for informed consent used to be what the average doctor thought his patient should know. However,  courts are increasingly basing their decisions on what a reasonable patient would want to know. That does not mean explaining every conceivable treatment option, but at least the reasonable ones.

3. "Fix" records quickly when something goes wrong. Altering records after a patient is injured is an easy way to lose a malpractice case. No matter how pure your intentions, any corrections you make to "help" your defense will be portrayed by the plaintiff's attorney and interpreted by the jury as an attempt to cover up what really happened. Such record tampering could also mean you will be paying for the cost of the defense yourself, since many policies specifically exclude coverage when a physician has altered his records.

It is okay to review your records to check for mistakes or omissions as long as you do it properly. Do not erase, white-out, or scribble over the mistaken entry. Instead, draw a single line through it, leaving it legible, and add your initials and the date. Then write the new note, explaining why the original one was incorrect, and initial and date that.

4. Trust the patient to follow through on referrals. While it is the patient's responsibility to comply with referrals to specialists, jurors may conclude that you should have followed up to make sure the patient actually did. Your office should have a strict protocol for keeping track of referrals:

Make sure the patient keeps the appointment; confirm receipt of the specialist's report; call his office if you don't receive it; make sure you see the report before filing it in the chart; and arrange a follow-up appointment if necessary. If a patient fails to keep a referral appointment, your staff should telephone her and follow up with a certified letter, and documented it in the chart.

5. Don't bother to track test results. Unreported test results are a frequent cause of delayed diagnosis claims. Labs and radiologists sometimes fail to send test results, or when they do, the report may slip through the cracks at your office. To avoid such errors, create a mechanism for tracking tests that you have ordered, making sure you actually receive the results from labs or radiologists, and that patients are promptly notified of the results after you have reviewed them.

If your office mails test results to patients, the message should include the nature of the test, the date it was performed, the test results, what they mean, and any required follow-up. If your staff reports test results by phone, make sure they follow up if they don't reach the patient on the first call. If test results are abnormal, you should report them to the patient yourself, especially if they suggest a serious condition. Only a physician can properly answer the questions the patient is likely to ask about the significance of the results, the long-range prognosis, and any required follow-up or referrals.

Unless expressly stated otherwise on this website, (1) nothing contained in this website was intended or written to be used, can be used by any taxpayer, or may be relied upon or used by any taxpayer for the purposes of avoiding penalties that may be imposed on the taxpayer under the Internal Revenue Code of 1986, as amended; (2) any written statement contained on this website relating to any federal tax transaction or matter may not be used by any person to support the promotion or marketing or to recommend any federal tax transaction or matter; and (3) any taxpayer should seek advice based on the taxpayer's particular circumstances from an independent tax advisor with respect to any federal tax transaction or matter contained in this website. No one, without our express written permission, may use any part of this website in promoting, marketing or recommending an arrangement relating to any federal tax matter to one or more taxpayers.


InsureMD.com

  Protecting Physicians

  & Improving Benefits